Hey, Leute! Here are some updates on how the month of August went for us. Thanks for reading!
Whitney:
I made a goal to finish the proofreading for Destiny Seeker, but those edits aren't quite finished! And that's fine, too. It took me longer than expected to finish the last bit of beta reader changes. Now, I've got my pistons pumping to clean up my manuscript throughout the month of September. I'm really excited to go through everything one last time and make the manuscript clean, coherent, and amazing.
The rest of the month has been only cool things! This past month, I discovered and joined the International Geek Girl Pen Pal Club. Much excite! It's been a while since I've had a pen pal, so I'm anxiously waiting to be paired up with a new geeky friend. A side effect of this whole blogging thing has been creating great connections with other nerdy, creative people.
Travis and I also went to Salt Lake Comic Con from September 1–3. It was amazing. We dressed up, went to a lot of panels, amassed quite a few books and prints, plus we got to attend Mark Hamill's panel! Dreams come true all around. They had quite a few panels on writing and storytelling, which we hope to talk about in upcoming blog posts. Other highlights included getting books signed by Margaret Stohl and E. K. Johnston.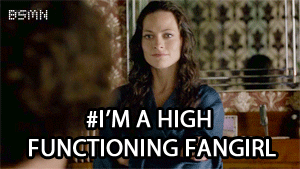 I'm currently reading and enjoying The Earl of Brass by Kara Jorgensen and hope to review it during this lovely month of September! This novel came out two years ago and I'm finally picking it up~ I realized that I've accumulated 30+ books that I purchased or received as gifts and still haven't read, so I hope to catch up on some more indie novels soon.
Goals for September
Read & review two indie novels

Finish Destiny Seeker proofreading

Blog weekly
Travis:
The semester is here! I'm pretty excited for it, and we'll see how long that lasts before it starts crushing my soul. Seriously though, it's off to a good start.
August was a good month; didn't get as much writing done as I wanted, but I finished Aftermath and loved it, and finished my first hand made costume just in time for the "capstone" of summer that was Comic Con! What a great experience that was.
Aside from being present at Mark Hamill's panel, we got to attend a number of panels with some really great authors who talked about their work. We also enjoyed some panels with storytellers at the helm of one of the most expansive fictional universes in the world. Pablo Hidalgo and others from the Lucasfilm Story Group spoke, and gave some really encouraging advice on following passions, and doing what's necessary to get your foot in the door of your dream job.
Goals for September
Don't drown in school work
Write a chapter weekly
Get in touch with writing group
So those are some of our quick little updates. How about you? What's in store for you in September?
Save
Save
Save